MIDDLEHAM AND ST. PETER'S PARISH RECTOR
ANNOUNCEMENT
WE HAVE A NEW PRIEST IN CHARGE
On behalf of the Vestry, I am very pleased and excited to announce to the Parish that we have called our new Priest in Charge! Her name is Reverend Erin Betz Shank.
That name may sound a bit familiar to some of you. Erin was an assistant rector here at Middleham and St. Peter's about 9 years ago. She was here less than a year, when she and her husband Jason+, also an Episcopal priest, were called to Northwestern Pennsylvania to be rectors at two separate Episcopal churches. We were sorry to see her go but now we are extremely happy to welcome her back. When asked about returning to Southern Maryland she said, "We are really looking forward to being with you all soon!"
I would like to extend my indescribable thanks to you all, the congregation, for your patience and prayers, and to the Vestry for their input, cooperation, and due diligence in accomplishing the task of finding and calling a new priest. We should all be grateful for the spiritual guidance of the Holy Spirit which has brought Pastor Erin to Middleham and St. Peter's Parish at this time. Her availability and return to us was definitely Holy Spirit infused. I'm sure once you meet her or get reacquainted with her you will agree that she is a good fit for MSP.
Pastor Erin will begin her ministry with us at the beginning of September. More details of her arrival will be offered as they materialize so we can welcome her, her husband Jason+ and two girls, Chelsea (4) and Emma (2) to our Middleham and St. Peter's Parish family. In the meantime, we are in very good hands with Father Skip and Deacon Laura who will alternately be leading our Sunday worship, a single service in Smith Hall at 9 am for the summer. Let us be assured that we can all look forward to a future of so many possibilities as we begin our journey together with Pastor Erin on a path God has laid out for us.
Blessings,
Joan Shisler
Senior Warden
Erin Betz Shank Bio –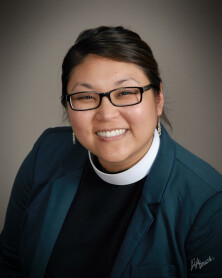 Pastor Erin grew up in Franklin, Pennsylvania. She received her Bachelor of Arts degree in Communication and Religion from Thiel College in Greenville, Pennsylvania. She went on to receive 3 Masters Degrees from The Lutheran Theological Seminary at Gettyburg, Boston University and The General Theological Seminary in New York City. During those years she not only learned about history and the traditions of the church but also the ways in which the church continues to serve and teach her people now. This opened her heart and eyes to so many ways in which to serve and "be Christ" in the world.
Erin was ordained to the Diaconate on June 7, 2014 and to the Priesthood on January 31, 2015.
She has served in ministry in various ways and settings, including the Missioner for Campus Ministry at St. Mary's College of Maryland, Assistant Rector at Middleham and St. Peter's Parish and most recently, Vicar of Trinity Church in New Castle, PA. She has served on various boards and committees (locally in the community and in the diocese), Diocesan Council, a delegate to General Convention, the Committee on Ecumenical and Interreligious Relations and currently, the State of the Church Committee for The Episcopal Church. She also recently represented TEC at the triennial gathering of Churches United in Christ.
She loves being a pastor and sharing with others the amazing love and grace that God bestows on all people!
Erin and her husband, Jason, also an ordained clergy of The Episcopal Church and Canon for Congregational Vitality and Transition in the Diocese of Northwestern PA and Western NY are excited to rejoin and work with the communities of Southern Maryland!
They have two girls, Chelsea (4) and Emma (2) and two cats, Phoebe and Sydney.