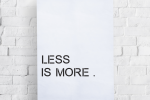 SELF-CARE AND THE HOLIDAYS: LESS IS MORE
In 1907 a young architect by the name of Ludwig Mies van der Rohe was working on a building design for his mentor Peter Behrens. When he presented several different designs to his mentor, Behrens's advice was to remember that, when designing a building, many times, "less is more."
The messages we receive during this holiday season are just the opposite. They are often some version of "more is more," as we are encouraged to buy more, do more, eat more, drink more, and want more. Our experience as therapists is that this can actually be a recipe for more stress and strife in ourselves and our relationships.
And so, as we enter the holiday season, we invite each of us to make choices about the kind of experiences we wish to design for ourselves, keeping in mind the advice that "less is more."
Making It Personal:
Are you feeling pressure to do more this time of year? What is one thing you wish to do less of during the next four weeks? Can you think of some way in which doing less could lead to enjoying more of what you want to experience this holiday season?