THE BIG CONVERSATION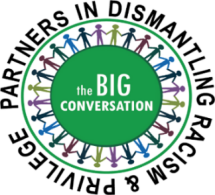 The Big Conversation VIII
Many Wounds to Heal: Health Care (In)Equity-
How does it Affect Me?
Sunday, September 13, 2020 from 2-5p.m.
The Big Conversation was originated by Middleham and St. Peter's Parish in 2011. The concept is to provide opportunities for civil conversations on national issues examining how the issues affect our Southern Maryland community. The Big Conversation is built around the idea that by sharing and listening deeply to each other's' experiences and stories, in small groups, better understandings ensue. The small groups are facilitated by trained mediators from the mediation centers of Calvert, Charles and St. Mary's Counties. Outcomes from each conversation include an executive summary and follow-up events aimed to increase understanding on the issue. Event topics are based on participant suggestions. The Big Conversation has grown from one church to 21 organizations that now form The Big Conversation Partners in Dismantling Racism and Privilege in Southern Maryland.
This eighth Big Conversation continues the past two conversations on dismantling racism in our community. The focus is on disparities in healthcare. The purpose is to increase awareness of longstanding systemic problems of bias and racism in healthcare and to identify opportunities for more equitable delivery of health care. The forum begins with a panel presentation including: a national expert, local health care leaders, and local citizens. The panelists will share their experiences both in encountering and addressing racism in healthcare. The facilitated small groups, described above, will follow. Finally, the participants will share ideas regarding what might be done as individuals and organizations/business. The group recommendations and the surveys are used to create the executive summary setting forth what we have learned and what can be done. Due to the pandemic, this year's Big Conversation forum is online using Zoom. Pre-registration is required. https://bit.ly/BigConversation91320
BIG CONVERSATION EVENT 09-13-20 PROGRAM